Hunter Finnell with one on one time with legendary Jack Nicklaus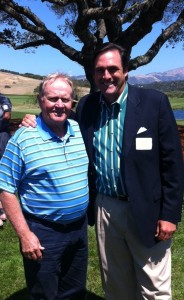 On Tuesday, June 12, arguably the greatest golfer of all time, Jack Nicklaus flew into Monterey.  Nicklaus, now 72, returned to the only golf course he has ever designed on the Monterey Peninsula, to announce a new golf development partnership with the Chinese, called "Nicklaus-China". Nicklaus, who has designed some 370 golf courses around the globe, plans to build several golf courses and resorts in China, where the game of golf is really beginning to take off. Nicklaus attended a media conference at Pasadera Country Club, (which Nicklaus opened in 2000) along with Dr. Guang Yank, Chairman and CEO of Finergy Capital, a private equity firm based in Beijing and the new partner in "Nicklaus-China".
Nicklaus took time out to speak with Hunter Finnell/ESPN 630 Sports Radio to talk about his new golf course design venture, reflected on the 50th anniversary of his (Jack's) first pro golf victory, the 1962 U.S. Open at Oakmont C.C. in Pennsylvania.  Nicklaus defeated the very popular Arnold Palmer, in Arnie's home state of Pennsylvania, the first of 4 United States' Open victories for the Golden Bear.  Nicklaus also finished runner-up in America's national golf championship four times.
When asked about this week's U.S. Open at the Olympic Club, near San Francisco, Nicklaus said he would be paying a brief visit to the tournament site, before flying home to Floridato watch the Open on television.
While Nicklaus gave Tiger a good chance to win his 4th U.S. Open at Olympic, he also didn't count out other currently great players, like Luke Donald, Dustin Johnson and Rickie Fowler.  Time will only tell, who will claim the  silver U.S.G.A. trophy for 2012.  The last professional to do so at Olympic was Lee Janzen, when he upset the late Payne Stewart at Olympic in 1998.
Nicklaus, always a great ambassador for golf, Tuesday, became THE ambassador of his own course, Pasadera C.C. And, it goes without saying that the Golden Bear may soon have the largest fan club on earth when "Nicklaus-China" really tees off.