Comerica Bank Challenger Tennis Tournament August 6-12

The 25th anniversary of the *Comerica Bank Challenger* Tennis Tournament was celebrated in style at the Seascape Sports Club in Aptos, CA from August 6-12.
Steve Johnson, the reigning NCAA Singles Tennis Champion from the University of Southern California defeated his former Trojan Teammate, Robert Farah in two decisive sets (6-3,6-3) to capture the professional singles' title.  Johnson, had already earned a "wild card" into this year's U.S. Open in New York, because of his NCAA Championship, however he gained valuable points, more experience and further respect with his triumph in Aptos.
 Hunter Finnell Media is one of several community sponsors that contribute to the United States Tennis Association's Challenger Tennis event that has been a staple in Northern California for a quarter century.  Past competitors in the *Comerica Bank Challenger* include, Andy Murray, John Isner, James Blake, Michael Chang, Justin Gimelstob, Patrick Rafter, and the famous Bryan Brothers' doubles' team from Stanford University.
 Congratulations to Seascape Sports Club!   Owners Paul & Winnie Kepler, Tournament Director, Judy Welch, and Tennis Pro, Bryan Cory deserve an "ACE" for keeping the Pro Tennis spotlight shining brightly in Northern California.
 On a personal side note, Logan Finnell, following in her Dad, Hunter's  footsteps, was the Media Relations' person for the Challenger for the second year. 
And, an added tip of the cap to (tennis competitor), Logan  and her professional partner, Matt Reid of Australia who, on Sunday, finished runner-up in the "Mixed Doubles" Championship on center court at Seascape.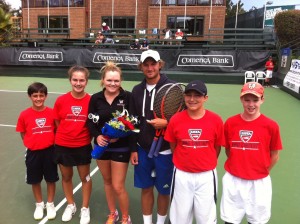 The Comerica Bank Challenger, home of the future stars of Pro Tennis.